Windscreen replacement
---
If your car has a cracked windscreen, it needs to be replaced.
Windscreen replacement for M1 and N1 class cars €69 – €99
Truck windscreen replacement (in glue) €129
Truck windscreen replacement (in gum) €69
Panoramic windscreen replacement from €200 – €900
Note: The exact cost of glass replacement depends on the vehicle's make and model and its specific features.
Note: The prices listed above cover only glasswork and do not include the cost of glass or accessories.
Should I have it repaired or replaced?
Based on the stages below we determine whether your windscreen can be repaired or whether it should be replaced. In any case we come up with a personal solution that is the best one for you.
Stage I
---
How big is the chip? A chip in your windscreen can be repaired if it is no larger than a €2 coin.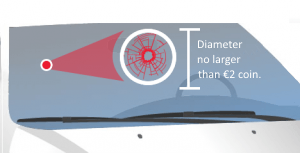 Stage II
---
Where is the chip? The chip has to be at least 6 cm from the edge of the windscreen.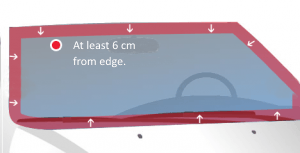 Stage III
---
Is the chip in the driver's field of vision? If so, the diameter must not exceed 10 mm. The driver's field of vision is an area of around 30 cm with its centre in the middle of the wheel.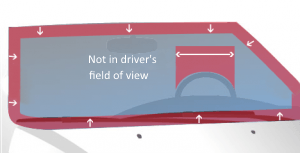 Stage IV
---
When is the right time to start repairing a chip? Getting your chipped windscreen fixed saves you time and money. Carglass® repairs windscreen chips in just 30 minutes.